Greenhouse Doors
Written on: 22 September 2015 By Kolodo Ltd.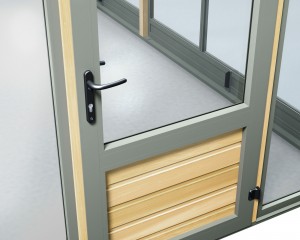 We have designed the ultimate greenhouse door. It's made from sturdy aluminium framing inset into a dimensionally stable Accoya frame to ensure a long lasting and perfect fit. The shiplap board is designed to withstand hard wear and the occasional knock whilst adding both beauty and strength. The upper glazed section is toughened safety glass. It's a combination of traditional wood working skills matched with a modern aluminium door system. The heavy duty hinges allow the door to fold back 180 degrees and the door can be held open, with a soft but strong device, for additional ventilation or to or help you when your hands are full. A low threshold will allow both wheelchair or wheelbarrow access. All our doors are wide and high such as those you would expect in your home.
We add a proper handle both inside and outside and modern secure eurolock to ensure your possessions and plants are safe and sound.
Written on: 22 September 2015 By Kolodo Ltd.